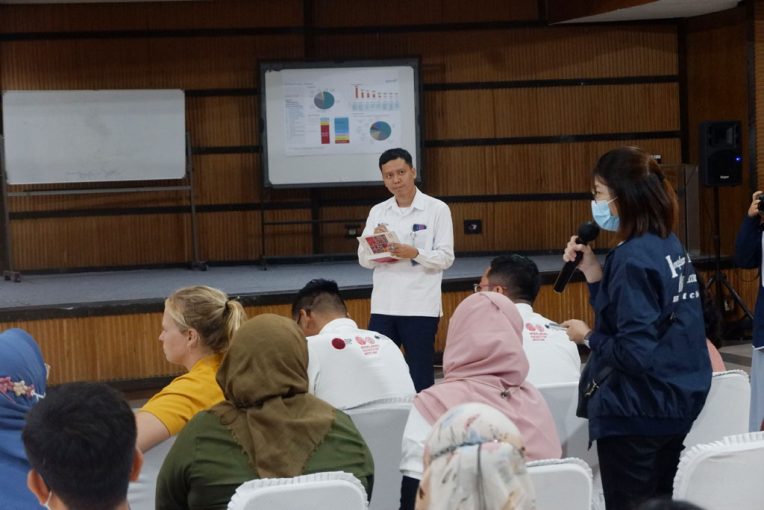 Students from three postgraduate's degree programs in the Faculty of Medicine, Public Health, and Nursing (FK-KMK) at UGM visited PT Bio Farma Bandung on Monday (20/03). This visit was part of the Strategy to Improve Supply and Utilization of Drugs and Vaccine for Tropical Diseases course for Master's students in Tropical Medicine and Implementation Research. In addition to these two programs, Master's students in Biomedical Science with a concentration in pharmacology also participated.
The group of 40 students was accompanied by lecturers and educational staff. For PT Bio Farma Bandung itself this is their first visit from an outside institution after several years of closing visits due to the pandemic. During this visit, students were given information about PT Bio Farma's profile. PT Bio Farma explained various activities carried out there, ranging from the vaccine or drug manufacturing process, inspection procedures, strict delivery standards, vaccine or drug storage, to distribution in remote areas.
Students were also given presentations on each field worked on by PT Bio Farma. Various presentations were interspersed with Q&A sessions. Students discussed with Bio Farma staff on specific topics that had been determined and adjusted to the courses they were taking. Various questions from students were limited to vaccine supply as part of the Immunization Development Program, Bio Farma's role in providing vaccines, distribution of vaccines throughout the country, vaccine storage to maintain the appropriate temperature, vaccine safety management, vaccine production, and the vaccine testing process before being distributed throughout the country.
The students responded and appreciated the performance of PT Bio Farma, which has been working very hard for Indonesia. After the Q&A session, the students were divided into three small groups to see various facilities and activities at PT Bio Farma. The Faculty of Medicine, Public Health, and Nursing has established a partnership with PT Bio Farma through relevant study programs. Every year, students from these three programs make visits to deepen their knowledge related to vaccines and other topics at PT Bio Farma.